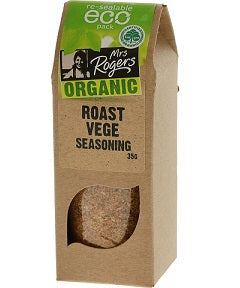 ie-produce
Mrs Rogers Organic Roast Vege Seasoning
Mrs Rogers Organic Roast Vege Seasoning 35gm 
A delicious combination of herbs, spices & New Zealand Sea Salt that adds a wonderful flavour & aroma to roast veges, to accent any roast meal.
Certified organic by BioGro NZ. Make your vege's shine, with this tasty combination of spices that adds a wonderful flavour & aroma with hints of fennel and garlic to accent roast vegetables and other vegetable dishes. Without breadcrumbs or added flour, giving a more complex herb and spice flavour.
SUGGESTED USES
Drizzle veges with oil & sprinkle on generously before roasting
Adds flavour to soups & stews
Add to mashed potatoes for an extra flavour boost
Delicious flavour that also works well sprinkled on meat before grilling or BBQ
The Variety
Made in New Zealand to my own recipe, using quality herbs & spices, inspired by Kiwi roast flavours.
Ingredients:
Organic: New Zealand Sea Salt, Garlic, Rosemary, Onion, Sugar, Fennel, Black Pepper, Spices, Citrus Peel.
Citric Acid.
---
More from this collection