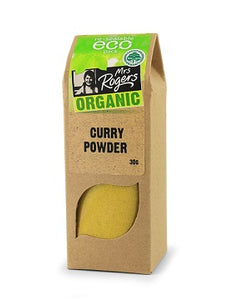 ie-produce
Mrs Rogers Organic Curry Powder
Mrs Rogers Organic Curry Powder 30gm
Curry is a ready made spice with a delicious taste of Indian cuisine.
SUGGESTED USES
Use to add exotic flavour to any meat dishes or to flavour vegetables, stews and casseroles.
Use to add flavour to baked / roast potatoes.
Lightly frying Curry powder first will intensify the flavour.
Makes a fragrant and flavourful garnish.
Perfect for curried eggs, and adding depth of flavour to sauces, pickles and chutneys.
The Variety
A spice mix based on Indian cuisine. Curry powder is a westernised version of traditionally inspired flavours, similar to the authentic spice mix Garam Masala.
Ingredients: Coriander, Onion, Ginger, Garlic, Cumin, Natural Sea Salt and Turmeric.
Certified organic by BioGro NZ, for your assurance of quality and purity.
For Your Appreciation
Recipes are varied but have similar key ingredients including turmeric which gives curry powder its yellow hue.
---
More from this collection