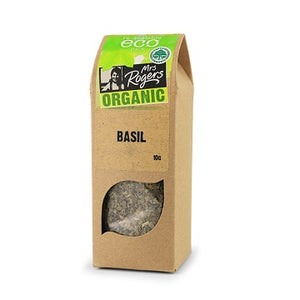 ie-produce
Mrs Rogers Organic Basil
Mrs Rogers Organic Basil 10gm
Basil is a herb with spicy overtones of aniseed and is often associated with Italian cooking. It is delicious when combined with tomatoes and then either cooked or in a salad.
Basil is an essential ingredient in any tomato based pasta sauce or soup.
Basil makes a delicious salad dressing – combine olive oil and lemon juice with Garlic and a sprinkling of Basil, salt and pepper.
Potatoes and vegetables are great roasted with olive oil and Basil.
Sprinkle Basil onto pizzas and pasta, together with Oregano, for an authentic Italian flavour.
Sprinkle a mixture of Basil, salt, Cumin and Coriander onto lamb chops before grilling.
Use in stuffing, omelettes and savoury scones
There are many varieties of Ocimum basilicum, I have chosen Sweet Basil, most typically associated with Italian cuisine.
Basil is a culinary herb of the family Lamiaceae (mints).
Basil is also called the "king of herbs" and the "royal herb".
Certified organic by BioGro NZ, for your assurance of quality and purity.
Basil complements tomatoes, green vegetables, salads, soups, eggs, fish, cheese, lamb, pizza and pasta sauces.
---
More from this collection