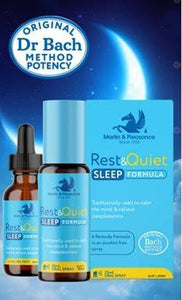 ie-produce
Martin & Pleasance Rest&Quiet Sleep Formula Spray 25mL
Martin & Pleasance Rest&Quiet Sleep Formula Spray 25mL
Martin & Pleasance Rest&Quiet Sleep Formula is traditionally used to calm the mind & relieve sleeplessness. Sleep is important to our overall emotional wellbeing.
Suitable for night use to help relax your mind and relieve the recurring & worrying thoughts that may keep you awake at night. This unique blend contains 6 Bach flower remedies to still the mental chatter, calm the mind, assist with feelings of overwhelm & impatience when we need a good night's sleep.
Your moment of sleep.
---
More from this collection