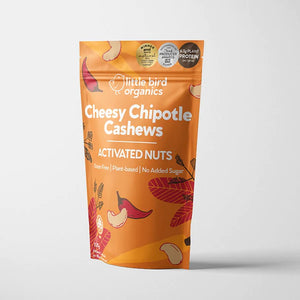 ie-produce
Little Bird Activated Nuts Cheesy Chipotle Cashews
Little Bird Activated Nuts Cheesy Chipotle Cashews 120gm.
Our Award Winning cheesy chipotle cashews are a high energy activated protein snack (and just a little spicy kick). Enjoy on-the-go after a workout, in the car, on a salad or stir fry, or just pop in your lunch box. Sorted. 

Wondering what the secret to our delicious cheesy flavor is? Simply fresh organic carrots and nutritional yeast! No cows necessary just real organic plant based wholefoods ingredients. Clever huh?
WHY ACTIVATED NUTS? 
Our nuts are activated, meaning we soak and dry our nuts fro 24 hours as a part of the making process. This breaks down the enzyme inhibitors in the nuts and makes them more 'bio-available' easier for your body to digest and get nutrition from.
Once activated our nuts are then dehydrated at low temperatures for 48 hours to maximise the crunch, nutritional integrity of those precious vitamins, enzymes and healthy fats while also concentrating the delicious flavour without the need for any weird numbers or additives or preservatives in your food. 
Through this magical process of dehydration were also reducing down all the veggies to a fraction of their weight to make our activated nuts the most naturally nutritious on the market.
Ingredients: Activated Cashew Nuts*†(87%), Carrot* Chipotle Pepper*(4%), Nutritional Yeast†, Lemon*
Apple Cider Vinegar*, Chili, Garlic*, Sea Salt*
May Contain: Traces of other Tree Nuts, Soy, Sesame
*Certified organic ingredients
†Ingredient not raw
---
More from this collection