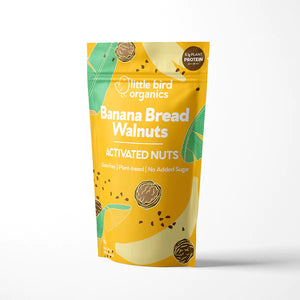 ie-produce
Little Bird Activated Nuts Banana Bread Walnuts
Our Moreish Banana Bread Walnuts are coated in fresh organic bananas that have been mixed with a hint of spice and cacao nibs - creating that wonderful banana bread taste. Great for an anytime snack - enjoy after a workout, in the car, in the lunch box or as a breakfast bowl topper or dessert.  

Sweetened only with whole fresh bananas no refined anything, there's over 120g of bananas in our 120g bag of walnuts! Wait, what..?  With the magic of dehydration we can concentrate the nutrients and flavour - giving you double the goodness as well as double the deliciousness!
WHY ACTIVATED NUTS? 
Our nuts are activated, meaning we soak and dry our nuts fro 24 hours as a part of the making process. This breaks down the enzyme inhibitors in the nuts and makes them more 'bio-available' easier for your body to digest and get nutrition from.
Once activated our nuts are then dehydrated at low temperatures for 48 hours to maximise the crunch, nutritional integrity of those precious vitamins, enzymes and healthy fats while also concentrating the delicious flavour without the need for any weird numbers or additives or preservatives in your food. 
Through this magical process of dehydration were also reducing down all the bananas to a fraction of their weight to make our activated nuts the most naturally nutritious on the market.
Ingredients: Banana°(55%), Activated Walnuts†(39%)
Cacao Nibs*, Mesquite*, Cinnamon*
May Contain: Traces of other Tree Nuts, Soy, Sesame
*Certified Organic Ingredients
°Organically grown ingredient
†Ingredient in Transition to Organic
---
More from this collection