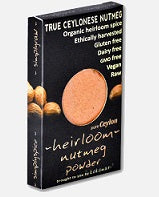 ie-produce
Kokonati True Ceylonese Nutmeg Powder 30gm
Kokonati True Ceylonese Nutmeg Powder 30gm
A true medicinal spice used for centuries, in Ayurveda, Nutmeg is widely used in remedies for; regulation of cholesterol, protection from, and prevention of cancer cells' growth. A powerful aphrodisiac, Nutmeg can also be used to combat depression naturally and even enhance memory capacity.
Nutmeg has grown naturally in the spice gardens of Ceylon from early 15th century.
Carefully handpicked fragrant kernels are sundried naturally and milled to produce this exotic, fragrant powder.
Aromatic Ceylon Nutmeg can be used to enhance flavors of sweet and savory dishes! Traditionally it is mixed with a  half teaspoon of lime juice and used as a natural remedy for diarrhea or vomiting, even in toddlers and young children.
Ingredients : milled Organic Nutmeg kernels (100%)
No processing, no additives, no preservatives
A product of Sri Lanka ( Ceylon)
ADVICE FOR USE AS A SUPPLEMENT:
Most of these ancient spices have flavored our foods for centuries and are safe to consume regularly when used as a 'spice' an ingredient when making foods.It would be very hard to overdose on a spice when it is a mi-nute part of a food recipe. With recent research and articles highlighting the medicinal properties and health attributes of these spices, rather than just consuming it straight away as a supplement, it is always advisable to consult a nutritionist or doctor, if using this product as an ongoing treatment for a health issue. A health care provider may recommend a specific dosage depending on a person's age, weight, and medical condition.
Not recommended for medicinal use when pregnant or breastfeeding.
Do not exceed recommended daily dosage which can vary between 1.5 to 3.0gr .
---
More from this collection