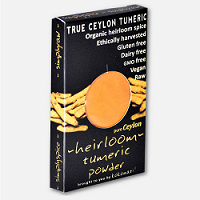 ie-produce
Kokonati True Ceylon Turmeric Powder 30gm
Kokonati True Ceylon Turmeric Powder 30gm
A true medicinal spice used for centuries, in Ayurveda , Turmeric is used in remedies as a disinfectant, an anti-oxidant and also for its anti-inflammatory properties. Recent medical reports have even suggested that Turmeric is effective in preventing and treating arthritis as well as some types of cancer . Turmeric is said to relieve digestive disorders and relieve stress!
Golden Turmeric has grown naturally in the spice gardens of Ceylon from ancient times. Ceylonese Tumeric is rich in curcumin and has a very strong aroma, color and taste.
Carefully harvested turmeric rhizomes are dug out using wooden sticks, sun-dried naturally and milled to make this powder.
Ceylonese Turmeric adds a rich color ,warm, earthy flavor and adds a subtle complexity to any dish – soup, stew or curry. It also helps in preserving food from microbial activity and used as a natural food dye.  
Can even be used in a smoothie or mixed into a herbal tea cup. Use in natural form for cooking or mixed in small daily doses as a hot herbal tea. Allow the powder to settle and drink the infused clear tea discarding the sediment at the bottom.
Ingredients : milled Organic Turmeric Rhizomes (100%)
No processing, no additives, no preservatives
A product of Sri Lanka ( Ceylon)
ADVICE FOR USE AS A SUPPLEMENT:
Most of these ancient spices have flavored our foods for centuries and are safe to consume regularly when used as a 'spice' an ingredient when making foods.It would be very hard to overdose on a spice when it is a mi-nute part of a food recipe. With recent research and articles highlighting the medicinal properties and health attributes of these spices, rather than just consuming it straight away as a supplement, it is always advisable to consult a nutritionist or doctor, if using this prod
---
More from this collection