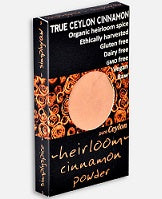 ie-produce
Kokonati True Ceylon Cinnamon Powder 30gm
What is the difference between cinnamon and cassia?
Although related, cinnamon and cassia are not obtained from the same plant. They should be treated as separate foods, both from a nutritional and a health standpoint. Scientifically speaking, there is only one true cinnamon, which is most commonly called "Ceylon cinnamon," and comes from the plant Cinnamomum zeylanicum. An alternative scientific name for Ceylon cinnamon is Cinnamomum verum, which simply translates as "true cinnamon."
The term "cassia" never refers to Ceylon cinnamon but rather to other species of cinnamon, including Cinnamomum cassia (alternatively called Cinnamomum aromaticaum) and Cinnamomum burmannii. While most simply referred to as "cassia," you'll often find Cinnamomum aromaticaum being referred to as "Chinese cinnamon" or "Saigon cinnamon," and you'll find Cinnamomum burmannii being called "Java cinnamon" or "Padang cassia.
---
More from this collection