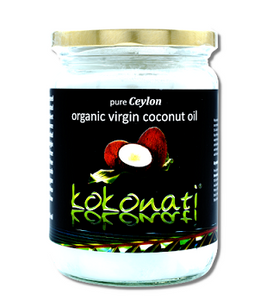 ie-produce
Kokonati Organic Virgin Coconut Oil 500ml
Kokonati Organic Virgin Coconut Oil 500ml
Use in raw foods, cooking and apply on the skin and hair!
KOKONATI Organic Virgin Coconut oils are 100% natural, certified organic with the fresh aroma of coconuts and clean tasting too truly delicious. Organic Virgin Coconut oil is very rich in medium chain fatty acids.
It is considered a functional super food because it has healing benefits beyond its nutritional contents. A coconut has more nutrients, that is simply put, the reason why coconut oils have many advantages over other oil sources. It comes from a source that's naturally higher in minerals and other phytonutrients.
Our oils have not been refined, are not hydrogenated and does not contain any trans fats , free of preservatives, additive or stabilizers.
---
More from this collection