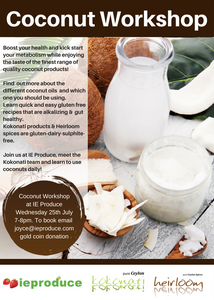 Kokonati Coconut Workshop - All Things Coconut
Sign Up
---
Boost your health and kick start your metabolism while enjoying the taste of the finest range of quality coconut products!
Find out more about the different coconut oils and which one you should be using.
Learn quick and easy recipes that are alkalizing & gut healthy. 
Kokonati products & Heirloom spices are gluten-dairy-sulphite-free.
So many uses and benefits of our coconut oil!
Did you know that there is absolutely Zero waste in the production of our organic virgin coconut oil?
Ever wanted to know how we get the oil from coconuts?
What can coconut oil be used for?
Join us at IE Produce, meet the Kokonati team and learn to use coconuts daily!
Coconut Workshop at IE Produce - All Things Coconut
Wednesday 25th July 7-8.30pm
All Welcome! Gold coin donation to North Shore Hospice!
https://www.ieproduce.com/collections/kokonati-coconut
P.S. Joyce will be demonstrating how easy it is to make her delicious Great Lakes gelatine jellies that you all tasted at the Broth Seminar