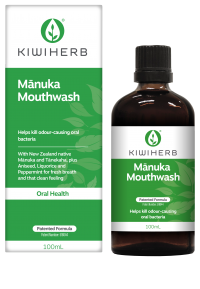 ie-produce
Kiwiherb Manuka Mouthwash
Kiwiherb Manuka Mouthwash 100ml
A natural herbal mouthwash made from New Zealand native Manuka and Tanekaha, which help to kill the odour-causing bacteria that cause bad breath.  In-vitro tests commissioned by Kiwiherb on preparations containing a combination of Manuka & Tanekaha have found activity against the common oral bacteria Streptococcus mutans, Streptococcus mitis, and Actinomyces naeslundii.
Naturally flavoured with Aniseed, Liquorice and Peppermint oil for fresh breath, Kiwiherb Manuka Mouthwash leaves the mouth feeling fresh and clean. 
Fresh tasting
100% natural
Freshens the mouth
Helps to kill odour causing bacteria
No artificial flavours, sweeteners, preservatives or colours are used in this product.
Always read the label. Use only as directed. If symptoms persist consult your healthcare professional.
INGREDIENTS
Contains:
Water, Ethanol, herbal extracts of Mānuka Herb, Tanekaha Herb, Liqourice Root and Aniseed, plus
oils of Mānuka and Peppermint.
Contains no artificial flavours, sweeteners, colours, or preservatives.
---
More from this collection