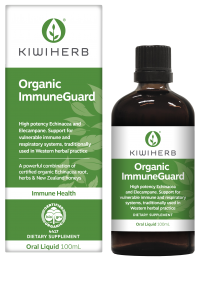 ie-produce
Kiwiherb ImmuneGuard 100ml
Kiwiherb ImmuneGuard 100ml - formerly WinterGuard
Organic ImmuneGuard
Kiwiherb Organic ImmuneGuard is a unique formulation using potent herbs to support immune and respiratory health. Locally grown Horseradish and Elecampane help clear airways, while our premium organic Echinacea supports immune function.
Kiwiherb Organic ImmuneGuard is suitable for adults and children over 6 years of age for immune support, particularly during the change of seasons and winter months.
Plant powered daily immune boost
A powerful combination of certified organic Echinacea root, New Zealand honey & herbs
High Potency Echinacea and Elecampane for vulnerable immune and respiratory system support, traditionally used in Western herbal medicine
NZ-grown Horseradish and Elecampane
Always read the label and use as directed. If symptoms persist, see your health professional.
INGREDIENTS
Each 5mL of this certified organic product contains:
Echinacea purpurea (Echinacea) dry root extract 1.5mL (derived from 750mg dry root).
Armoracia rusticana (Horseradish) dry root extract 400 microlitres (derived from 200mg dry root).
Inula helenium (Elecampane) dry root extract 350 microlitres (derived from 175mg dry root).
Honey 1.65g
In a base of ethanol, purified water and glycerol.
Contains no artificial flavours, sweeteners, colours, or preservatives.
---
More from this collection