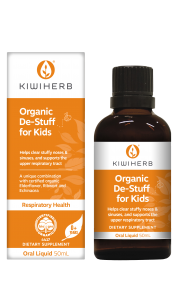 ie-produce
Kiwiherb Organic De-Stuff For Kids 50ml
Kiwiherb Organic De-Stuff For Kids 50ml
BioGro certified organic; ear, nasal and sinus support. The natural herbal ingredients, organic Elderflower, Ribwort and Echinacea root, work to support clear airways and helps loosen mucus to support easy breathing in children. Echinacea also provides systemic immune support.
With a base of organic apple juice, and natural peppermint and orange oil, this is specifically formulated to taste great. Suitable for children and also available for adults.
Nasal and sinus support.
Supports the upper respiratory health.
Sweet, minty taste.
Convenient liquid formulation.
BioGro certified organic formula.
Specially formulated for children 0 - 12 years.
Always read the label and use only as directed. If symptoms persist, consult your health professional.
INGREDIENTS
Each mL of this certified organic product contains:
Sambucus nigra (Elderflower) dry flower extract 250 microlitres (derived from 125mg dry flower).
Plantago lanceolata (Ribwort) fresh leaf extract 250 microlitres (derived from 125mg fresh leaf).
Echinacea purpurea (Echinacea) dry root extract 150 microlitres (derived from 75mg dry root).
In a base of glycerol, purified water, apple (juice concentrate), orange and peppermint flavour.
Contains no artificial flavours, sweeteners, colours, or preservatives
---
More from this collection