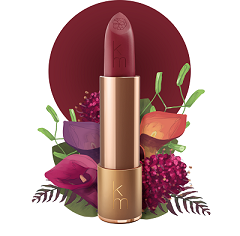 ie-produce
Karen Murrell Lipsticks 11 Scarlett Blaze
Karen Murrell Lipsticks 11 Scarlett Blaze
The deep reddish plum of Scarlett Blaze delivers dramatic depth and velvety glamour. This long-lasting lipstick plum red shade is sure to turn heads when you walk through the door. 
Lipstick benefits-
All Karen Murrell lipsticks have carefully selected natural ingredients that ensure a creamy, smooth application, on-the-go hydration, and long-lasting colour. 

Lipstick contains- 

Avocado oil provides moisture, nourishment, and hydration.
Cinnamon gives fuller, plumper lips.
Nourishing Shea butter and Jojoba seed oil 
Evening primrose oil is rich in Omega 6, soothing, and super moisturising.
Carnauba wax, renowned for its high melting point, ensures your lipstick is long-lasting – even on the hottest day.

Beeswax high in anti-inflammatory properties and vitamin A which supports 

cell reconstruction and health. 
---
More from this collection