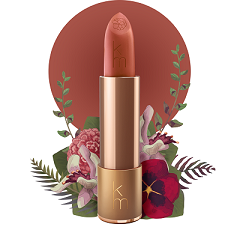 ie-produce
Karen Murrell Lipsticks 02 Cordovan Natural
Karen Murrell Lipsticks 02 Cordovan Natural 
Spice it up. The colour worn most by Karen Murrell herself, the effortlessness of this natural nude lipstick makes Cordovan Natural an essential. The rich tone of toasted cinnamon combined with a warm peach highlight sees its universal beauty provide flattering wear for all moods, all skin tones, all day. Cordovan Naturals' versatile formula is perfect for additional hydration or targeted re-hydration on-the go - wherever and whenever you need a dose of replenishing moisture and stunning colour. 
Active Lipstick ingredients
All Karen Murrell lipsticks have carefully selected natural ingredients that ensure a creamy, smooth application, on-the-go hydration, and long-lasting colour. Cordovan Natural is the best nude lipstick a person could own. 
Avocado oil provides moisture, nourishment, and hydration.
Cinnamon gives fuller, plumper lips.
Shea Butter for restoration and hydration 
Evening primrose oil is rich in Omega 6, soothing, and super moisturising.
Carnauba wax, renowned for its high melting point, ensures your lipstick is hard-wearing – even on the hottest day.
The perfect lipstick for warm skin tones 
---
More from this collection