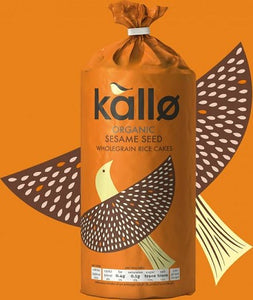 ie-produce
Kallo Organic Sesame Seed Wholegrain Rice Cakes 130gm
Kallo Organic Sesame Seed Wholegrain Rice Cakes 130gm
The sesame bird, Is a fashionable chap. "I'm an icon of style," He declares with a flap.
"My feathers are bright, My tail is so long. I'm a most handsome bird,"
Say the words of his song.
He struts through the woods, And it's wholly agreed, That his brain is the size,
Of a sesame seed.
31 calories per rice cake

 

No artificial colours, flavours or preservatives

 

Vegetarian and vegan friendly

 

Gluten free
Ingredients: 
Organic wholegrain brown rice (95%), organic sesame seeds (5%), sea salt.
Allergen Advice: May contain soya and milk. See ingredients list for allergens.
*Our product is prepared to a vegan recipe but due to the use of milk at the manufacturing site there may be a risk of cross contamination.
---
More from this collection