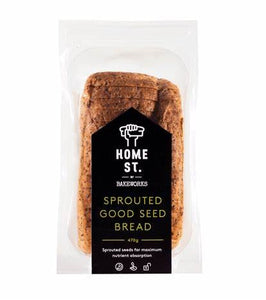 ie-produce
Home St. Sprouted Good Seed Bread 470g
Home St. - It's all about sprouting and activating!
 Ingredients:  Water, Modified Tapioca, Coconut Flour*,  Maize Starch, Sprouted Seeds (6.2%) (Sunflower*, Sesame*, Amaranth), Activated Seeds (5.1%) (Pumpkin*, Linseed, Canihua*, Chia)  Sunflower Oil, Sprouted Brown Rice Flour*, White Rice Flour, Apple Cider Vinegar*, Rice Malt*,  Sorghum Flour, Besan Flour, Free Range Egg White Powder,  Psyllum Husk , Coconut Nectar*,  Guar Gum, Yeast, Ulu Flour, Saltwell (Sea salt), Flax Fibre, Citrus Fibre 
* CERTIFIED ORGANIC  
Home St. has been carefully created to invigorate the bread market.  Every ingredient has been hand-picked based on its nutritional properties to create something special.  Home St. isn't just about bread and bringing something new to market, we strongly believe the market is crying out for something different that is good and honest. 
---
More from this collection