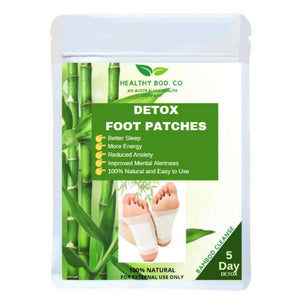 ie-produce
Healthy Bod Bamboo Detox Foot Patches
Healthy Bod Bamboo Detox Foot Patches - 5-day detox 
Detoxing and feeling refreshed has never looked this good and easy 
Our 5-day detox patch plan is perfect for those wanting to give this detox product a go and see if it suits you. 
Ingredients: 
Bamboo vinegar (a powerful antioxidant, antibacterial and anti-inflammatory agent), wood vinegar (increases vitality, antibacterial, removes foul odours, combats diarrhea, great for wound healing, remedy for gout, and general body wellbeing) , tourmaline powder (reduces anxiety and stress, fear and panic, balancing yin and yang energies, energetic protection, generated negative ions - good for health), vitamin c (enhances immune system and helps fight disease, promotes growth and repair of all body tissues) chitosan (reduces high blood pressure and high cholesterol, reduces obesity, and promotes wound healing) and anion powder (this powder has a whole host of positive benefits on the body and mind including better sleep, improved circulation, improved mood, helps you to feel refreshed, stabilises blood pressure, strengthens the bones, enhances heart function, helps reduce depression and so on.  
Healthy Bod Bamboo Detox Foot Patches are 100% Natural Bamboo 5 Day Cleanse to Promote General Wellbeing.
Healthy Bod Bamboo Detox Foot Patches are easy to use, working through the night to support better sleep, more energy, reduced anxiety and improved mental health. Feet contain hundreds of acupuncture points as well as pores through which toxins leave your body at night - the foot patches help this process. Not only that, but the beneficial ingredients will enter your body through the feet, while drawing our toxins at the same time. You will wake up feeling far more refreshed than you have in days, weeks or even months, have reduced pain, and feel better in general.
Healthy Bod Bamboo Detox Foot Patches
Stimulate acupressure points located on the soles of feet, promotes blood circulation and metabolism, improves body organ function, improves the immune system and general wellbeing
Promotes sleep, relieves fatigue, increases energy
Removes excess body moisture, quickly relieve any pressure on the feet and can help relieve various body pains including neck, shoulders, back and legs
Can help reduce foot odour, bad breath and constipation
Directions
Wash and dry your feet before applying the patches
Apply the patches 1 hour before bedtime
Peel the backing on the adhesive
Place the detox patch (with the side that is labelled "please put adhesive sheet on this side)"in the middle of the sticky adhesive patch
Place the patch on the foot and press down to help the adhesive stick uniformly. You can use the detox patches on other discomforted areas of the body also
Keep the patches on for 6-8 hours
Peel off the patch after use, wash the dirty area well and dry
Used patches will appear dark greenish or grey as they absorb the toxins from your body.
Continue to use each night until the discolouration of the pads subsides or for 5 days minimum.
---
More from this collection