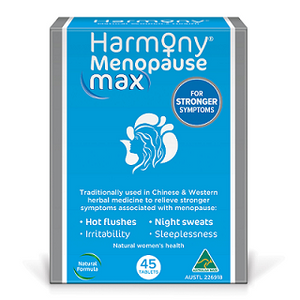 ie-produce
Harmony Menopause Max 45tabs
Harmony Menopause Max 45tabs.
Harmony Menopause Max is formulated for when menopause symptoms are at their max.
This high potency herbal medicine contains herbs traditionally used in Chinese and Western herbal medicine to relieve symptoms associated with menopause, such as hot flushes, night sweats, sleeplessness and fatigue.
Women experiencing symptoms associated with menopause at lower intensity may benefit from taking the original Harmony Menopause.
Traditionally used in Chinese & Western herbal medicine to relieve (stronger) symptoms associated with menopause:
Hot flushes
Night sweats
Irritability
Sleeplessness
Made in Australia
Directions for use:
1 tablet, twice daily.
Or take as directed by your healthcare practitioner.
Tablets can be taken with water or juice, before meals or at least one hour after meals.
Warning: We always suggest consulting your healthcare professional before use of this product or if symptoms persist.
Vitamin supplements should not replace a balanced diet.
Discontinue use if you develop sensitivity to the formula.
Do not sue if blister seal is broken. Store below 30 degrees Celsius. Keep out of reach of children.
---
More from this collection