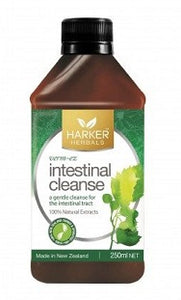 ie-produce
Harker Herbals Intestinal Cleanse 250ml
Harker Herbals Intestinal Cleanse 250ml
Intestinal Cleanse is a gentle cleanse for the digestive tract to support healthy digestion, increased energy levels and discourage parasites. A clean gut helps absorption of essential minerals and nutrients from foods and, with most of our immune cells being found in the gut, provides a healthy environment for immune cells to thrive. An important tonic in the Malcolm Harker range, we recommend taking Intestinal Cleanse four times a year for 7-14 days. Intestinal Cleanse may also support microbial balance in the digestive tract. 


Gently cleanses the digestive tract
Discourages parasites in the intestinal tract
Supports healthy digestion
May support microbial balance in the intestinal tract
Improves feelings of well being and restores energy
Liquid formula for fast absorption
Can be taken long term
Suitable for all the family
Vegan-friendly
Not to be taken while pregnant or breastfeeding
Always read the label and use as directed. If symptoms persist, see your healthcare professional.
Ingredients: 
Each dose contains:
In a base of purified water, vegetable glycerine, irish moss, citric acid, iodine and JoJoba oil
Ingredients: 
Shake the bottle vigorously before taking a dose. Our recommended dosage for adults is 5-10ml taken 3 to 4 times per day. Take 1 hour before meals. Drink plenty of water during the day. 

If you haven't taken Intestinal Cleanse before, reduce the dosage to a ¼ to ½ dose for the first 2 or 3 days. This will help your system adjust. Then gradually increase the dosage to 5-10mls each time. 

Each dose can be mixed in 50mls of boiled water as a tea if you prefer. 

We recommend taking a course of Intestinal Cleanse four times a year for 7-14 days. Fourteen days is normally sufficient to treat the average healthy person.

Intensive 6 Week Course:  Every 7th day, take 20mls 1 ¼ hours apart from 7am until 12 Noon. Have lunch 1 hour later. Do this for 6 weeks. Drink plenty of water during treatment to help flush the system.
---
More from this collection