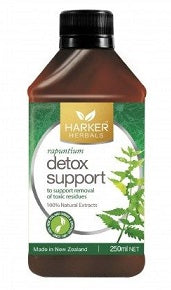 ie-produce
Harker Herbals Detox Support 250ml
Harker Herbals Detox Support 250ml
Supports mucus removal and detox of chemical toxins
Detox Support is an effective detoxification tonic that helps rid the body, blood and lungs from residue of chemicals, poisons and other toxins such as nicotine, tetra hydrocannabinols and drugs.

Always read the label and use as directed. If symptoms persist, see your healthcare professional.
Ingredients: 
Each dose contains:

ANISEED
CINNAMON
CLOVE BUD
D'LIMONENE
ORANGE
PATCHOULI
CAYENNE PEPPER
COMMON VERVAIN
GINGER
HOREHOUND
KUMARAHOU
MARSHMALLOW
YELLOW DOCK
In a base of purified water, vegetable glycerine, irish moss, citric acid, iodine and JoJoba oil
Directions: 
Adults (12 years and over): 5 - 10mls, 3 - 4x daily. Take one hour before meals.

Shake vigorously before use.
---
More from this collection