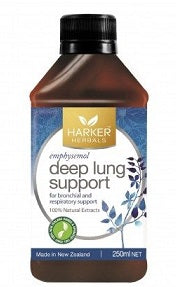 ie-produce
Harker Herbals Deep Lung Support 250ml
Harker Herbals Deep Lung Support 250ml
Anti congestive and antiseptic to remove mucus and support deep lung health
Deep Lung Support is our most powerful respiratory tonic designed to aid removal of mucus build up in the lungs and support healthy breathing. This trusted elixir is our most popular herbal tonic.

Recommended for:
Clogged or 'heavy' lungs and airways
Support for healthy breathing
Supported lung health
Smoker's congestion
Those living in areas of high air pollution
Recovery from ills and chills
Boosting the immune system

Always read the label and use as directed. If symptoms persist, see your healthcare professional.
Ingredients: 
Each dose contains:
WHITE HOREHOUND
ELECAMPANE
COLTSFOOT
PLEURISY ROOT
KUMARAHOU
LOBELIA
CAYENNE 
GINGER
MENTHOL
LICORICE
PINE BARK
JUNIPER
ROSEMARY
CLOVE BUD
CEDARWOOD
LEMON
PEPPERMINT
EUCALYPTUS
In a base of purified water, vegetable glycerine, irish moss, citric acid, iodine and JoJoba oil
Directions: 
Adults (over 12 years): 5-10mls 3 to 4 times daily

Make sure you shake the bottle vigourously before taking a dose.
---
More from this collection