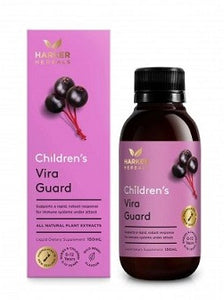 ie-produce
Harker Herbals Children's Vira Guard 150ml
Harker Herbals Children's Vira Guard 150ml

Supports a rapid and robust response for immune systems under attack. Great every day support for immune defences. Suitable for babies and children to 12 years.
Supports a rapid and robust response at the first signs of feeling unwell

Helps dry excess mucus

Useful everyday support to guard against common immune threats

Includes Elderberry and Olive leaf, which clinical research shows supports recovery from winter-related ills.

Natural wild berry flavour

Free from gluten, dairy, alcohol and preservatives

Always read the label and use as directed. If symptoms persist, see your healthcare professional.
Active ingredients
Each 5ml dose contains:
ELDERBERRY extract 1720.48mg
ECHINACEA root 760mg
OLIVE extract 657mg
In a base of chicory root fibre, vegetable glycerine, natural flavours, citric acid and water

This low sugar formulation contains less than 0.06g of sugar per 5ml dose.
Directions: 
Infant 0-1 years: 0.5ml (5 drops)
Children 1-2 years: 1 to 2ml (1/4 metric teaspoon)
Children 2-5 years: 2 to 3ml (1/2 metric teaspoon)
Children 5 years and over: 5ml (1 metric teaspoon)


Take recommended dose by age group 3 times per day to maintain a healthy response to immune threats.
If unwell, take recommended dose by age group 5 times per day.
If no improvement after 2-3 days, seek professional medical advice.

Shake well before use.
---
More from this collection