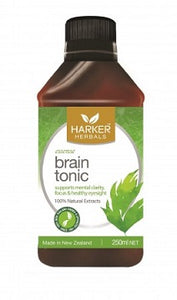 ie-produce
Harker Herbals Brain Tonic 250ml
Harker Herbals Brain Tonic 250ml
Brain Tonic is composed of herbs known to be high in brain-specific nutrient-minerals and oxygen. The major elements are oxygen, iron, phosphorus and magnesium. Gingko leaf may support mental clarity and focus and healthy eyesight. Clary sage, an uplifting herb, supports alertness. Mineral rich, and nourishing, Brain Tonic helps to restore energy, and clear the mind.
An ideal 'student study' elixir and 'brain fatigue' elixir. Helps clarity of thought.
Especially suited to over-work, adult study, elderly, brain tonic.
Not to be taken during pregnancy or breastfeeding
Always read the label and use as directed. If symptoms persist, see your healthcare professional.
Each dose contains:
CLARY SAGE
JOJOBA
ROSEMARY
SAGE

ANGELICA

BURDOCK ROOT
CAYENNE
GINGER
GINGKO
LICORICE
YELLOW DOCK
In a base of purified water, vegetable glycerine, irish moss, citric acid, iodine and JoJoba oil
Directions: 
Adults (over 12 years): 5-10mls 3 to 4 times daily

Make sure you shake the bottle vigorously before taking a dose.
---
More from this collection