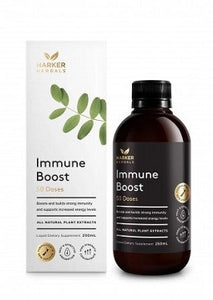 ie-produce
Harker Herbals Be Well Immune Boost
Harker Herbals Be Well Immune Boost

Boosts and builds strong immunity and supports increased energy levels. Great for every day use to support long term recovery and those prone to repeat illness and feeling rundown. 
Supports strong immunity and healthy energy

Useful everyday support for those prone to repeat illness, low energy and feeling rundown

Useful added support when recovering from illness.

Includes Astragalus, Echinacea and Siberian Ginseng, which clinical research shows supports strong immune systems

Natural lemon flavour

Free from gluten, dairy, alcohol and preservatives

Suitable for adults and young adults over 12 years

Safe in pregnancy and breastfeeding

Can be taken long term
Always read the label and use as directed. If symptoms persist, see your healthcare professional.
Directions: 
Recommended adult dosage (over 12 years)

Stay well: To boost and build immunity, take 5ml two to three times daily OR take a single dose of 10–15ml once per day if preferred. Take long-term for best results.
Get well: To support recovery from illness and low energy levels, take 5ml three to four times daily. If acutely unwell, take Harker Herbals Vira Guard.

Shake well before use.
---
More from this collection