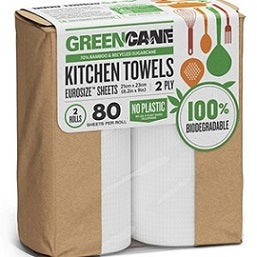 ie-produce
Greencane Paper Towels
Bamboo & Sugarcane are 100% Biodegradable
Greencane Paper is a modern solution for a group of everyday products. We have replaced 70% of the timber usually found in these products with recycled sugarcane and fast renewable bamboo. Greencane Paper is GMO and BPA free and all packaging is compostable with no plastic.
 Greencane Paper is part of the worldwide movement towards sustainability. By choosing Greencane products each time you shop, you are sending a powerful message which directly helps the way we value our environment.
Ideal for home use, our paper is white and soft. 100% fast biodegradable
Each roll 80 sheets, 2 ply.
---
More from this collection