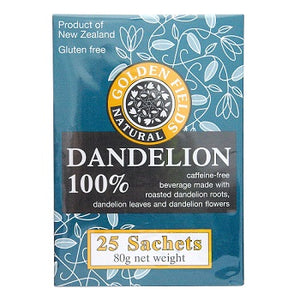 ie-produce
Golden Fields Dandelion 100% - 25 sachets
Golden Fields Dandelion 100% - 25 sachets
DANDELION100% contains all the parts of the dandelion plant: the roasted roots (94%) and the dried leaves and flowers (6%). This product is offered as a gluten free dandelion-only sachet because the regular yellow packets contain some roasted barley malt. It is a pleasantly bitter nutritious tea with the dark colour of coffee. 
Dandelion100% is gluten free and caffeine free.
Golden Fields Dandelion Coffee is commercially grown on a certified organic farm in New Zealand. Dandelion is a difficult plant to grow commercially - it is labour intensive process, which explains the price.

The 100% Dandelion (sachets only (HD))

Ingredients: Very finely ground dandelion root mixed with 6% weight of dry dandelion leaves and flowers (Taraxacum officinale). 100% refers to all the parts of the plant being used.

Directions:
Sachets:

 

One sachet per cup, use preheated cup, pour boiling water, cover, infuse 5–10 minutes, squeeze sachet with teaspoon and stir.
Granules:

 

One teaspoon loose granule per cup, or 15 grams per litre, infuse 5–10 minutes or simmer one minute.
For a latte (cow or soy milk), a stronger brew may be necessary.
---
More from this collection