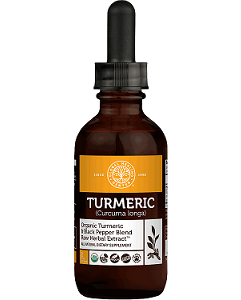 ie-produce
Global Healing Turmeric 59ml
Global Healing Turmeric 59ml
Organic Turmeric + Black Pepper Raw Herbal Extract™
SUPPORTS MAX HEALTH - Turmeric contains high levels of curcumin and many other antioxidants, vitamins, and nutrients that are attributed to over 600 potential health benefits including: digestion, irritation response, joint flexibility and normal aging.

EASES DISCOMFORT - Both turmeric and black pepper work to relieve temporary discomfort, relieving joint pain, stiffness and soreness. Both men and women can help get relief after a long day of work or an exercise. Feel the healing essence of turmeric.

AIDS DIGESTION - Helps enhance the activity of digestive enzymes in the gut, helping your system process food more quickly and easily for maximum comfort & relief. Premium turmeric helps soothe stomach lining & regulates gas and occasional constipation.

RAW HERBAL INGREDIENTS - Certified organic turmeric (Curcuma longa), blended with black pepper (Piper nigrum) extract, increases bioavailability and allows for maximum absorption. Our liquid drops are the highest potency for your body to directly absorb.

MANUFACTURED IN THE USA 

- Our Turmeric is manufactured in our very own, state-of-the-art cGMP certified facility in Phoenix, Arizona.
Suggested Use:
Shake bottle well. Take 1 ml in the morning and again in the evening, or as directed by your healthcare provider.
What Is Turmeric?
Turmeric is a therapeutic spice that's been appreciated for at least 4,000 years. Over the last 25 years, around 3,000 studies have confirmed its range of benefits and shown it to be the ultimate support for encouraging a healthy inflammatory response and soothing oxidative stress throughout the body.
We combined fresh, nutrient-rich turmeric with our Raw Herbal Extract technology to produce a powerful liquid formula that concentrates the full spectrum of beneficial compounds and antioxidants in turmeric. The bioavailability of the formula is enhanced with the addition of Energized Trace Minerals™ and black pepper. The two-ounce bottle lasts 30 days when used as directed.
Health Benefits of Turmeric
Turmeric is a strong antioxidant that soothes stressed tissue throughout the body.
---
More from this collection