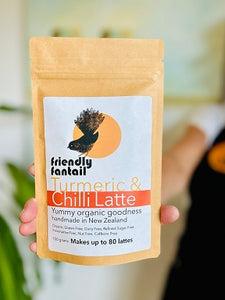 ie-produce
Friendly Fantail Organic Turmeric & Chilli Latte 100g
Friendly Fantail Organic Turmeric & Chilli Latte 100g
Friendly Fantail Organic Turmeric & Chilli Latte 100g
Another super yummy all organic kiwi-made drink from Friendly Fantail!  This deliciously yummy blend of organic Cayenne Pepper, Lemon Turmeric, Cinnamon, Ginger, and Black Pepper is handmade for you right here in pure New Zealand.  There is no gluten, no caffeine, no added sugar or sweetener of any description, no dairy, no preservatives, no nuts - just jam packed full of goodness!  
All our ingredients are certified organic and are of the highest quality.  Quality is important in Turmeric specifically as the higher the quality of the Turmeric, the more curcumin it contains.  It is the curcumin that is the active ingredient in Turmeric and the one that is really going to give your body a boost.
Makes up to 80 lattes making it super value!
Postage: Please note that we have set up our website to wherever possible charge you only what it costs us to send the item to you.
Benefits:
This super yummy, all organic kiwi drink is caffeine free, gluten free, dairy free, refined sugar free, nut free and of course preservative and additive free. Or as we like to say at Friendly Fantail "It's free of everything except goodness!".
Cayenne Pepper of course tastes great...we love it!  But like all our ingredients has it's own super powers!  It contains vitamins A, B6, C and K.  Vitamin A is important for vision, reproduction, the immune system and for organs such as your heart, lungs and kidneys and their functions. Have a Google of Cayenne Health Benefits - it's worth a wee read!
In Ayurvedic Medicine, Turmeric and the other ingredients have been used for thousands of years to maintain health and wellbeing. Here we have blended just the right amount of Turmeric with Ginger, Cinnamon and Black Pepper to bring you Friendly Fantail Turmeric Latte. Black Pepper significantly enhances the absorption of Curcumin – the active ingredient of Turmeric – hence it's inclusion in this super yummy spice mix. We hope you love it as much as we do!
The Ritual:
To make, simply mix 1/2 a measuring spoon teaspoon of Friendly Fantail Turmeric Latte with a little hot water and stir into a smooth liquid in your favourite cup.  Warm 200ls of your favourite milk. We prefer rice milk, but you can use almond, coconut, soy or even good old cow's milk.  Anyhoo, mix with the liquid with your warmed milk and enjoy!  If you wish, froth your milk, sprinkle with ground cinnamon and/or add a like honey. 
Enjoy your cuppa in a favourite spot, with a favourite person!
Experiment with different amounts to create your perfect cuppa.  At Friendly Fantail we also use this blend in cooking, smoothies, desserts and salads. 
Ingredients:
All organic Turmeric, Cinnamon, Ginger, Cayenne Pepper, Lemon and Black Pepper.  All goodness! No additives, no preservatives and definitely no added sugar! 
Other Info:
This Turmeric Latte blend is great for those on Gluten Free diets, Paleo diets, Sugar Free diets.  Or those just wanting a healthy, organic drink!   It is also great in cooking, baking and smoothies - let your imagination run wild!  
Be aware that this product is literally ground up spices.  As a result, this fabulous drink won't fully dissolve like a coffee will...there will always be a bit of sediment left at the bottom of your cup.  But don't worry, you don't have to drink the sediment but if you do, it's all super good for you!!
Allergen Statement:
Our raw products - by their very nature - are gluten free.  However they are handled in facilities that also handle seeds, nuts and grains. We take every care to avoid cross-contamination.  If you have any concerns, please call us - we can talk you through our processes to see if you are comfortable.
---
More from this collection