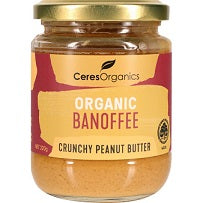 ie-produce
Ceres Organics Banoffee Peanut Butter
Ceres Organics Banoffee Peanut Butter 220gm
Unlike anything you've tasted before, this unique blend is dessert in a jar. Nutty and sweet with crunchy banana chips it's AMAZING spoon-licking goodness. You'll taste the organic difference.
Ingredients
Peanuts*48.9%, Coconut*, Golden Sugar*, Banana Chips*11.6% (Banana*89%, Coconut Oil*, Coconut Sugar*, Honey*), Sesame Seeds*, Vanilla Extract (Water, Alcohol, Vanilla Beans, Cane Sugar), Natural Sea Salt (*Certified Organic)
Allergen Info
CONTAINS PEANUTS & SESAME. PROCESSED ON THE SAME EQUIPMENT THAT HANDLES TREE NUTS.
---
More from this collection