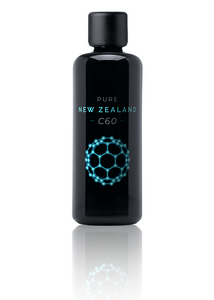 ie-produce
C60 - Carbon 60 - 100ml
C60 - Carbon 60 - 100ml
Our vision is to deliver the highest quality and most natural products. This is achievable  in a country that is world renowned for its high quality products, standards and pristine environment.  We are passionate about natural health and doing business with integrity. We source the purest form of C60 possible; 99.99% made with no solvents.
We source from and support New Zealand single grove olive groves that practice organic and bio dynamic processes. We process our product using only natural processes that protect and preserve the C60 in extra virgin olive oil, including packaging in special glass bottles that not only protect but enhance the final product.  
We source a pure form of C60; sublimed 99.99% C60 which is the highest purity of C60 available.
The C60 is purified through a sublimation process which ensures there are no solvents in the C60 unlike C60 that is purified with solvents and vacuum baked to remove solvent residue.
---
More from this collection