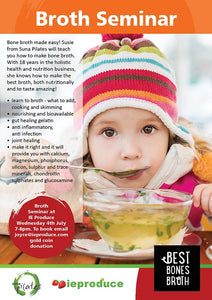 Broth Seminar - Bone Broth Made Easy!
Sign Up
---
Bone Broth made easy!
Susie from Suna Pilates will teach you how to make bone broth.
With 18 years in the Holistic Health & Nutrition business, she knows how to make the best bone broth, both nutritionally and to taste amazing!
learn to broth - what to add, cooking and skimming
nourishing and bioavailable
gut healing gelatin
anti inflammatory, anti infection
joint healing
make it right and it will provide you with calcium, magnesium, phosphorus, silicon, sulphur and trace minerals, chondroitin sulphates and glucosamine
100% Certified Organic NZ Ingredients
Here at Best Bones Broth, we source the Best local New Zealand Certified Organic ingredients to bring you the highest quality Bone Broth possible.
We're all about Gut Health and it shows in our gelatinous broths. Clean and fresh tasting with no added preservatives, salt, or other nasties. 
Join us at ieproduce, meet Susie from Suna Pilates and Derek from Best Bones Broth.
Look forward to Best Bones Broth Chicken Broth serve hot as there heart warming recipe, plus more...

Wednesday 4th July 7-8pm
All Welcome! Gold coin donation to North Shore Hospice!
https://www.ieproduce.com/collections/soups-broths