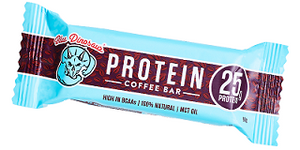 ie-produce
Blue Dinosaur Protein Bar Coffee
Blue Dinosaur Protein Bar Coffee
It has a creamy, familiar, moreish flavour that'll have you cupping it with both hands but won't leave you with a frothy moustache! It will, however, provide a huge kick of protein to strengthen your coffee experience, your daily resolve and your bangin' biceps!
Ingredients:
Free Range Egg Whites
Beef Collagen
MCT Oil
Dates
Maple Syrup
Fair Trade Espresso Beans
Nothing Else!
Benefits:
25g Protein per bar
BCAAs
Only 6 ingredients
MCT Oil
---
More from this collection