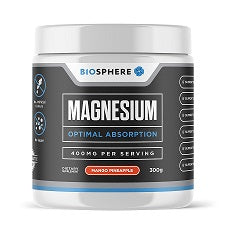 ie-produce
Biosphere Magnesium Mango Pineapple 300g
Biosphere Magnesium Mango Pineapple 300g
Biosphere Magnesium Formulated for Optimal Absorption 
 Bioavailable blend of Magnesium Citrate, DiMagnesium Malate, and Magnesium Lysinate Glycinate Chelate.
• 400mg of Magnesium per serving, a therapeutic dose.
• 60 servings per tub or 30 sachets per box.
• Great tasting. Naturally flavoured and sweetened.
Biosphere Magnesium has been created to be the cleanest, most bioavailable magnesium supplement available.
We have combined three types of bioavailable forms of magnesium to create the ideal dose with optimal absorption. Each serving contains 400mg of elemental magnesium, a therapeutic dose to help people maintain optimal levels of magnesium.
- Magnesium Citrate
- DiMagnesium Malate
- Magnesium Lysinate Glycinate Chelate
Our magnesium comes as a great tasting, easy to mix powder that is free of binders, fillers and artificial ingredients. Flavoured with a natural lemon flavour, sweetened with stevia and monk fruit and coloured with a dash of turmeric.
Ingredients:
Magnesium Citrate has a great absorption rate and mixes well with water. Biosphere Nutrition have used a natural marine based magnesium citrate as one of the best forms for supplementation.
DiMagnesium Malate is a fantastic form of magnesium for people suffering from fatigue, since malic acid is a vital component of enzymes that play a key role in ATP synthesis and energy production. The ionic bonds of magnesium and malic acid are easily broken, making it highly soluble and easily absorbed.
Magnesium Lyscinate Glycinate Chelate is a form of magnesium glycinate bound to the amino acid lysine which keeps the magnesium molecule stable in its journey to the gut for absorption. Formulated by Albion Minerals®, the gold standard in mineral production, their chelated forms of magnesium are designed to be the most bioavailable possible. Magnesium glycinate is extremely easy on the stomach and is a great form of magnesium for those people looking to rectify a deficiency.
Biosphere Nutrition has combined these three forms of magnesium to offer the best rates of absorption while also accommodating to those who are sensitive to magnesium citrate at high doses. By reducing the dose of citrate and including the magnesium malate and lysinate glycinate chelate the Biosphere Magnesium supplement is great for everyone.
Sweetener, Flavour and Colour are all from natural sources. We use the best available natural stevia and monk fruit extract to sweeten the powder. The flavour is a natural lemon and the powder is coloured with a dash of turmeric.
Vegan, Gluten Free, Sugar Free, Non-GMO.
Directions for use: 
Mix a single scoop or sachet into water (200ml) until dissolved.
Adults: 1 serving in the evening after dinner.
Ages 8-13: Half of the adult dose.
Ages 4-7: A quarter of the adult dose.
---
More from this collection