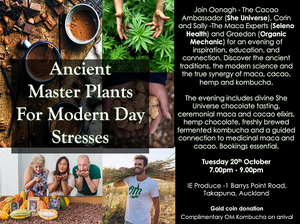 Ancient Master Plants for Modern Day Stresses
Sign Up
---
Join Oonagh - The Cacao Ambassador (She Universe), Corin and Sally -The Maca Experts (Seleno Health) and Graedon (Organic Mechanic) for an evening of inspiration, education, and connection.
Discover the ancient traditions, the modern science and the true synergy of maca, cacao, hemp and kombucha.
Cacao Workshop: 
The health benefits of Cacao
-How Cacao became chocolate from its ancients origins as a medicine
-How to cook with Cacao daily and make ones own healthy chocolate at home
-How Cacao is grown and the importance of local sourcing of ingredients 
-How to do one's own Cacao Ceremony at home
-How to initiate the power of Cacao and chocolate as a medicine for optimal health benefits.
The evening includes:
divine She Universe chocolate tasting
ceremonial maca and cacao elixirs
hemp chocolate
freshly brewed fermented kombucha
a guided connection to medicinal maca and cacao
and more...
complimentary OM Kombucha on arrival
Bookings essential
Tuesday 20th October 7-9pm
in-store at ieproduce 1 Barrys Point Road Takapuna Akld
Gold Coin Donation to Harbour Hospice
https://www.ieproduce.com/collections/maca
https://www.ieproduce.com/collections/she-universe-chocolates
https://www.ieproduce.com/collections/kombucha
https://organicmechanic.co.nz/