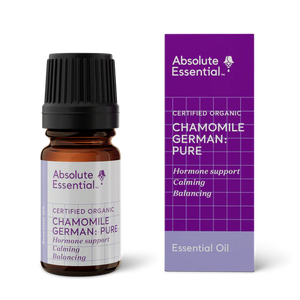 ie-produce
Absolute Essential Oil Chamomile German: Pure
Absolute Essential Oil Chamomile German: Pure 2ml
An exceptionally gentle plant distillation that supports overall skin health, relaxation and hormonal balance.
 Key ingredients
100% pure Chamomilla matricaria, distilled flower, Egypt.
Product Uses: 
Hormonal balance
Add 3-5 drops to a bath during your cycle. Therapeutic baths should not exceed 15 minutes.
Add 3-5 drops to massage oil and rub in to the stomach and lower back.

Scars
Add 3% of German Chamomile to 10ml Jojoba or Rosehip Oil and massage into healed scars to encourage natural skin regeneration and conditioning.

Skin health care
Use in blends of natural oils and gels. Apply in a 1% dilution.

Digestion
Add 3-5 drops to 1ml olive oil & apply to stomach in a clockwise direction. Repeat as required.
Safety considerations
This oil is safe if applied as directed. Safe to use with other medication when necessary. If accidentally ingested do not induce vomiting, follow with Olive oil or milk and seek advice from a health specialist. Avoid contact with eyes - flush with water. Keep out of reach of children.

Please note: Therapeutic plant oils are used to support natural body processes for optimum health and wellbeing. The information here is NOT meant as a recommendation to cure any medical condition or disease.
---
More from this collection