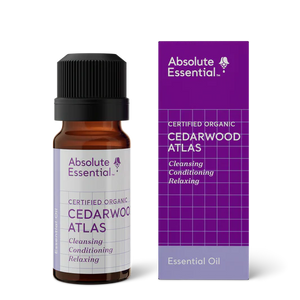 ie-produce
Absolute Essential Oil Cedarwood Atlas
Absolute Essential Oil Cedarwood Atlas 10ml
A woody and spicy plant extraction that supports a relaxed state of mind and body. Also useful in skin and hair care (particularly for adolescents).
Key ingredients
100% pure Cedrus atlantica, wood, distilled, Morocco.
Product Uses: 
Deep relaxation, stress reduction and restful sleep
Add 5-10 drops to your bath or diffuser. Therapeutic baths should not exceed 15 minutes.

Excess oil and acne
Add 2 drops to 2g of untouched face cream daily, apply to the affected area.

Greasy hair
Add 5 drops to shampoo or conditioner before washing.

Fungal infection - feet
Add 5-8 drops to a footbath daily. Combine with Tea Tree or Cinnamon if fungal infection persists.

Safety considerations
This oil is safe if applied as directed. Safe to use with other medication when necessary. If accidentally ingested do not induce vomiting, follow with olive oil or milk and seek advice from a health specialist. Avoid contact with eyes - flush with water. Keep out of reach of children.
---
More from this collection