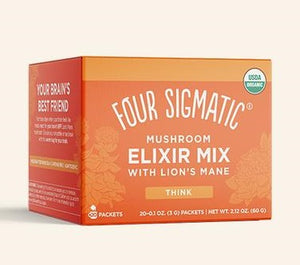 ie-produce
Four Sigmatic Mushroom Lion's Mane Elixir - Think
Four Sigmatic Mushroom Lion's Mane Elixir - Thinkl
Like a Hug for Your Brain
Like a Hug for Your Brain
It's the pencil sharpener for the digital age - allowing you to be "on point" as you put your mind to the next task. Whether you're writing your next best-seller, prepping for exams, or facing a deadline at work, our savory Lion's Mane Elixir makes putting your nose to the grindstone actually smell pretty good. Additional ingredients include organic peppermint, rose hips, rhodiola root and hint of stevia (reduced 50% from old recipe).
Focus with Lion's Mane
As visually impressive as it is beneficial, the brain-supporting benefits of the beautiful lion's mane mushroom have been studied for centuries. With both short-term and long-term benefits, our dual-extracted lion's mane extract not only supports memory and concentration, but also supports cognitive function and the nervous system.
Brain Hugs All Day, Everyday
Ready to drink with hot water
Enhance with your choice of nut milk and/or natural sweetener
Blend in coconut oil or ghee for a creamier texture
Add to your favorite coffee or morning tea
Drink in mornings or early afternoons
Better than a study buddy
Double dose during bouts of brain fog
MIX. SIP. CREATE.
Ingredients
Organic Lion's Mane Mushroom (1,500 mg)
Our pure, wood-grown lion's mane mushroom extract is made by dual-extracting the fruiting body of the fungi. The result is 1,500 mg of lion's mane mushroom extract that is organic, non-GMO, and free from fillers and carriers.
Organic Rose Hips (300 mg)
We've always held these beautiful, deep red Vitamin C bombs close to our heart. As kids, we used to play with the "itching powder" from the inside of these fruits and later on, we started eating them as a tasty roadside snack. Each elixir has 18mg of vitamin C per serving.
Organic Rhodiola (200 mg per serving)
Often called the "Golden Root", rhodiola root is a super adaptogen, known for its support of concentration and memory. Our rhodiola roots are wild-harvested from the mountains of Tibet and then dual-extracted.
Organic Mint
We add delicious peppermint leaf to add a subtle minty taste.
Organic Stevia (50mg)
We add a pinch of stevia leaf extract for calorie-free sweetness to round out the bitterness of lion's mane's natural taste. Our stevia is a high-quality concentrated extract without the common metallic aftertaste.
---
More from this collection