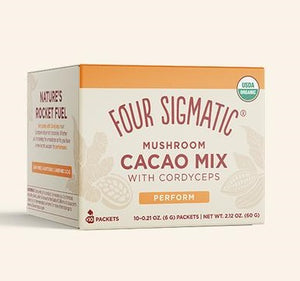 ie-produce
Four Sigmatic Mushroom Hot Cacao Mix with Cordyceps - Perform
Four Sigmatic Mushroom Hot Cacao Mix Revive with Cordyceps - Perform 
Recharge in the morning or afternoon with our special cacao blend with energizing cordyceps mushrooms to support stamina and endurance. An upgrade on guilt-free hot chocolate.
Revive with Cordyceps
Increased energy levels go hand in hand with increased physical performance as cordyceps are known for keeping lethargy at bay. Cordyceps are our secret ingredient for helping us to perform better athletically. When paired with dreamy cacao, this elixir has even more antioxidant properties to pick you up in the sweetest way anytime of the day.
Press Play with Hot Cacao and Cordyceps
Ready to drink with hot water
Enhance with your choice of nut milk or natural sweetener
Blend in coconut oil or ghee for a creamier texture
Sip instead of coffee
Perfect for sipping on the slopes
Use in baking and sprinkle on top of your smoothie or cereal bowls
Made with pure Peruvian cacao
Just 25 calories per serving
Sip. Revive
From Our Forest Farm to Your Cup
Organic Cordyceps Mushroom (500 mg)
Our Cordyceps elixir is made by extracting the fruiting bodies of the Cordyceps militaris mushroom. Organic, non-GMO, and free from fillers and carriers. (We don't use the infamous cordyceps derived from caterpillars in our production methods, and our product is suitable for vegans.)
Organic Cacao Powder
Our smooth, flavorful, and minimally processed cacao powder, grown in the high altitudes of Peru makes up 2.6g per serving of our cacao reishi blend.
Organic Coconut Palm Sugar
We add just a little sweetness with organic coconut palm sugar that's a mineral-rich alternative to refined sugars. It is made by boiling down the sap of the coconut palm, the "maple syrup of the tropics". One serving contains only 2.5 grams of coconut palm sugar—just enough - which or comparison is about 1/10 the amount of sugar in one banana!
Organic Ginger
Aside from its great flavor, organic ginger powder is well studied for helpful effects on the digestive system including helping to calm nausea.
---
More from this collection