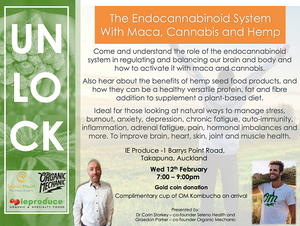 The Endocannabinoid System with Maca, Cannabis and Hemp
Sign Up
---
The Endocannabinoid System with Maca, Cannabis and Hemp
Come and understand the role of the cannabinnoid system in regulating and balancing our brain and body and how to activate it with maca and cannabis.
"Hear from Organic Mechanic co-founder Graedon Parker about the benefits of hemp seed food

products, and how they can be a versatile protein, fat and fibre addition to supplement a plant-based diet - boosting brain, heart, skin and joint health, whilst aiding in muscle maintenance & development.

Enjoy a complimentary cup of probiotic Organic Mechanic Kombucha poured from the tap at the door."


Wednesday 12th February 7-9pm In-store at ieproduce

Gold  Coin Donation
Seleno Health Maca
Our vision is to educate on the importance of good health and well-being and to assist and inspire everyone with achieving their health potential. We offer natural health solutions and tools to improve your own self-health management and a volunteer program in Peru to bring you closer to your food and the people that produce it. As a socially responsible company we give back to our farmers and community through developmental projects and fund-raising initiatives that aim to improve the lives of those less fortunate.
"Through education, lifestyle changes and supplemental support everyone has the potential to achieve their health goals."
 Dr Corin Storkey – Founder and Director of Seleno Health
Seleno Health is a New Zealand company that specialises in Peruvian maca and antioxidant enzyme supplements. In Peru we ethically source authentic maca direct from the farm and assist with socially responsible development projects with our farmer and his community.
Once harvested, the maca is naturally dried for 3 months at altitude, then gelatinised to remove starch and bacteria, making it ready to eat.
Benefits:
Ethically sourced farm to table organic maca direct from Peru
Promotes energy, vitality and combats stress and fatigue
Balances hormones and mental health
Natural remedy to combat stress and fatigue
Balance adrenal and thyroid function
Socially responsible and sustainably produced
$1 per bag is used to fund blankets, heating and school supplies in Peru
https://www.ieproduce.com/collections/maca
Organic Mechanic Premium NZ Grown Hemp Seeds
Grown in the South Island of Te Wai Pounamu, hemp hearts are the most nutritious part of the hemp seed. By shelling the hemp seed, you get only the centre - a rich nutty flavour, with a tender crunch, and raw nutrition.


High in protein - 24% plant-based protein


Contains the perfect ratio of Omega 3, 6 & 9 Essential Fatty Acids (rgood fats responsible for a healthy brain, blood, joints, hair and skin)

Hemp seeds are non bloating and easily digested.

High in digestive fibre - 40% dietary fibre (highest percentage of fibre in a grain on this planet)


Hemp seeds contains all essential amino acids

Hemp seeds are a superfood which can be added to every meal as a high protein and healthy fat addition. Add to smoothies, muesli, on toast, in salads, or even as a garnish over dinner.
https://organicmechanic.co.nz/products/hemp-seeds
https://www.ieproduce.com/collections/hemp