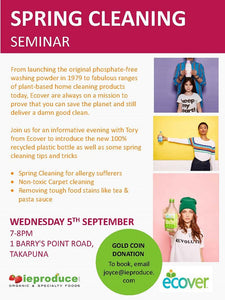 Spring Cleaning
Sign Up
---
Is Your Home A Toxic Environment?
From launching the original phosphate-free washing powder in 1979 to fabulous ranges of plant-based home cleaning products today, Ecover are always on a mission to prove that you can save the planet and still deliver a damn good clean.
Join us for an informative evening with Tory from Ecover to introduce the new 100% recycled plastic bottle as well as some spring cleaning tips and tricks
Spring Cleaning for allergy sufferers
Non-toxic Carpet cleaning

Removing tough food stains like tea & pasta sauce
We are Ecover.
We believe good things come from being honest.
We say and do things our competitors choose not to.
And we always, always will do.
That's why we're proudly au naturel.
Wobbly bits out and proud.
You won't find any dirty ingredients in our products.
No phosphates, lies and nothing to hide.
That's why we call BS where we see it.
That's why we blow the whistles.
 That's why we wage war against plastic pollution.
That's why we champion real families and real lives.
It's 2018, people.
Good guys shouldn't be the rebels. But here we are.
Together let's right some wrongs and still make it home in time for dinner.
LET'S LIVE CLEAN.
To us, clean means so much more than washing the dishes. It's about cleaning ourselves, our homes, our communities – and yes, the whole wide world.
That means waging war on plastic waste, carbon emissions and all the other big bad problems out there.
Ready to take up your squeegee?
Wednesday 5th September 7-8pm
in-store @ ieproduce 1 Barry's Point Road, Takapuna, North Shore, Auckland.
All Welcome! Gold coin donation to North Shore Hospice!
Read this! follow link below
http://www.dailymail.co.uk/health/article-2920391/How-AIR-house-making-ill-drying-washing-using-gas-cooker-15-million-homes-affected-Toxic-Home-Syndrome-increases-risk-heart-disease-cancer.html