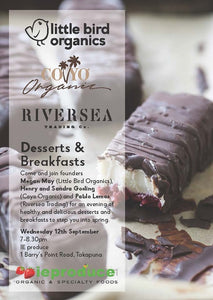 Little Bird Organics Deserts & Breakfasts
Sign Up
---
Little bird is the creation of partners Megan and Jeremy. Megan is the chef and creator of the little bird flavour and Jeremy, an award-winning architect and designer, is the brains behind the branding.
For Megan, growing up in a family which helped pioneer the organic movement in NZ, food and nutrition were always going to play a natural but important part in her life. Diagnosed with a number of food allergies at a young age, she was raised on a gluten, dairy, sugar-free diet.
Megan's dream of sharing the potential of high quality, organic, raw foods started when she began travelling as a flight attendant after gaining a university degree in Environmental Science. Seeing the quality and variety of foods in organic stores and cafes from many different countries and cultures was totally inspiring … and the little bird seed was sown.
Back home in NZ, Megan threw herself into the pursuit of her dream. Initially she enrolled to train as a chef, though not the raw, organic kind. Unfortunately this took a toll on her health and a two-year struggle with serious illness led to a total rethink of her situation. To restore her health vitality, Megan began to research new ingredients and ideas and gradually build her repertoire of nutritious, restorative foods.
Little bird is a culmination of Megan's life-long experience and passion for creating high-quality, artisan foods coupled with the practical support and creative design genius of Jeremy.
Here at little bird we believe our food should not only taste amazing, it should make you feel amazing too. And there are plenty of people who say it does. Raw foods naturally provide an abundance of nutrients that will make you sparkle. A little birdie really did whisper in Megan's ear that the best food is simply raw, organic and full of the good stuff. Try it and see for yourself.
Wednesday 12th September
7-8.30pm
in-store @ ieproduce 1 Barry's Point Road, Takapuna, North Shore, Auckland.
All Welcome! Gold coin donation to North Shore Hospice!