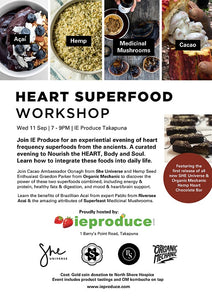 Heart SuperFood Workshop
Sign Up
---
Join ieproduce for an experiental evening of heart frequency superfoods from the ancients. A curated evening to Nourish the Heart, Body & Soul.
Learn how to integrate these foods into daily life.
https://www.ieproduce.com/collections/she-universe-chocolates
https://www.ieproduce.com/collections/hemp
https://www.ieproduce.com/collections/medicinal-mushrooms?page=2
https://www.ieproduce.com/collections/freezer-treats
She Universe -
She Universe is about living an extraordinary life. We hope our love of creating opens your heart to a deeper taste of the infinite!
We invite you in tasting true creativity to explore the taste of the unseen you, to step over the edge and manifest your brilliance in all you create and do.
Nourishing body and being through inspired cuisine, decadent chocolate, superfood cacao, stunning views, service from the heart and profound meditation.
Welcome to the universe of She - your doorway to passion, love and creativity!
Show me the CHOCOLATE!
Organic Mechanic -
In the winter of 2013, Organic Mechanic began as a small organic smoothie stall, operating only on the weekends, at the La Cigale French markets in Parnell.
As the planetary movement towards health and wellbeing grows stronger, Organic Mechanic and it's surrounding ccommunity stand as strong ambassadors for holistic health and conscious business, aligning life with their truest, most authentic purpose, creating a healthy, regenerative future for generations to come.
https://organicmechanic.co.nz/
Riversea Acai -
Pablo Lemos grew up on the açaí bowl in his native Rio. He moved to Auckland New Zealand in 2013.
When it became apparent that an açaí bowl of the consistency, taste and quality that he was used to in Brazil, was not available in New Zealand, he partnered with his friends and fellow açaí lovers David and Theresa Kinnear.
Together we set up the RiverSea (nickname for the Amazon river because of its vastness) Trading Co with the simple goal -  to source the very best açaí berries available and bring them to New Zealand so Kiwis can enjoy this amazing food too. 
We hope you enjoy our products, please keep us informed and share your favorite recipes with us.
Superfeast -
Powerful Tonic Herbs To Elevate Mind, Body & Spirit
We really love tonic herbs and medicinal mushrooms. We take them every day. We think they're awesome. We fell in love with them, they transformed us and we decided we needed to share them with the world. 
We are a family-owned business (zero investors)
We are huge health nerds!
Based in the Northern Rivers, NSW, Australia (it's paradise!)
We take the herbs ourself, give them to our families and friends
We go to extremes to uphold the Di Tao philosophy
We will never, ever cut corners
 https://www.superfeast.com.au/