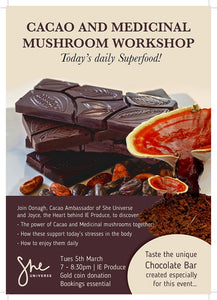 Cacao and Medicinal Mushroom Workshop
Sign Up
---
Cacao and Medicinal Mushroom Workshop
Today's daily Superfood!
Join Oonagh, Cacao Ambassador of she Universe and Joyce, the Heart behind IE Produce, to discover:
* The power of Cacao and Medicinal Mushrooms together!
* How these support today's stresses in the body
* How to enjoy them daily
Nourishing body and being through inspired cuisine, decadent chocolate, superfood cacao, stunning views, service from the heart and profound meditation.
Oonagh will also be tasting the She Universe Easter Chocolates
https://www.ieproduce.com/collections/easter-treats
https://www.ieproduce.com/collections/she-universe-chocolates
https://www.ieproduce.com/collections/superfoods?page=2
Also we have a guest speaker:
Luke Parker -
🎩 The Illusionist
👍 Manager NZ Muscle
💪 2018 NZIFBB 90 - 100 kg National Champion
👥 NEXUS Performance Athlete
🍄 Proudly Supported By IE Produce
Current N.Z.IFBB (International Federation Body Building) Champion
(90 - 100kg class)
Luke will be sharing his story with the SuperFeast Adaptogens, Medicinal Mushrooms & Blends
Luke will share some of his challenges prior to using SuperFeast Medicinal   Mushrooms along with the success he has since using them.
The benefits on using the SuperFeast Medicinal Mushrooms making them part of his everyday life.

Powerful Tonic Herbs To Elevate Mind, Body & Spirit

Cordyceps - a superstar supplement can also enhance athletic performance
 She Universe Chocolate Bar with SuperFeast Mason's Mushrooms:
Immune & Gut Tonic
A super-blend of nourishing medicinal mushrooms hand-picked to support immunity, gut health, hormonal function and the nervous system. Revered in ancient herbal traditions, these potent adaptogenic herbs boost vitality and encourage longevity.
Medicinal mushrooms possess a sophisticated immune system cultivated to ward off bacteria. When humans ingest these sacred mushrooms, they are bestowed with the herbs' robust immunity and vast health-promoting properties.
Ingredients • Wild chaga*, semi-wild reishi*, semi-wild lion's mane, cultivated cordyceps CS-4, semi-wild Agaricus blazei, semi-wild shiitake, semi-wild poria, semi-wild maitake extract powders. *dual extract.
MAY SUPPORT:
Energy & vitality
Immunity
Nervous system
Jing & Qi
GI tract & gut microbiome
SOURCED • Di Tao where possible from traditional herb-producing regions of China.
Independently tested. No added fillers or starches. Packed by weight, not volume.
These statements have not been evaluated by the TGA or FDA.
If pregnant or breastfeeding please consult with your healthcare provider before adding these herbs to your diet.