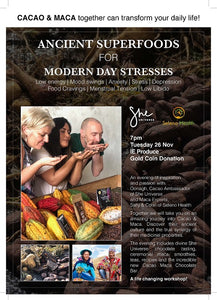 Ancient Superfoods for Modern Day Stresses
Sign Up
---
Ancient Superfoods for Modern Day Stresses
Join ieproduce and She Universe for an evening of inspiration and passion with: Oonagh, Cacao Ambassador of She Universe and Maca Experts, Sally & Corin of Seleno Health on Tuesday 26th Nov @ 7pm

Learn how to integrate these foods into daily life.
https://www.ieproduce.com/collections/she-universe-chocolates
She Universe -
She Universe is about living an extraordinary life. We hope our love of creating opens your heart to a deeper taste of the infinite!
We invite you in tasting true creativity to explore the taste of the unseen you, to step over the edge and manifest your brilliance in all you create and do.
Nourishing body and being through inspired cuisine, decadent chocolate, superfood cacao, stunning views, service from the heart and profound meditation.
Welcome to the universe of She - your doorway to passion, love and creativity!
Show me the CHOCOLATE!
Seleno Health Maca
Our vision is to educate on the importance of good health and well-being and to assist and inspire everyone with achieving their health potential. We offer natural health solutions and tools to improve your own self-health management and a volunteer program in Peru to bring you closer to your food and the people that produce it. As a socially responsible company we give back to our farmers and community through developmental projects and fund-raising initiatives that aim to improve the lives of those less fortunate.
"Through education, lifestyle changes and supplemental support everyone has the potential to achieve their health goals."
 Dr Corin Storkey – Founder and Director of Seleno Health
Seleno Health is a New Zealand company that specialises in Peruvian maca and antioxidant enzyme supplements. In Peru we ethically source authentic maca direct from the farm and assist with socially responsible development projects with our farmer and his community.
Seleno Health is a family run New Zealand company with a Peruvian base that specialises in natural solutions for chronic fatigue, adrenal fatigue, stress and mental health disorders. They produce specialised Peruvian maca products and supplements to manage stress and adrenal fatigue.
Authentic Peruvian organic maca is sourced by Seleno Health from their farm in the mountains of Junin, Peru.
It is socially responsible with $1 per bag donated directly to their charity fund to support the local community of San Jose de Quero. It is fair-trade, certified organic and ethically sourced direct from farm to table. All the steps they take are to create a sustainable method of trade that benefits all involved.
Once harvested, the maca is naturally dried for 3 months at altitude, then gelatinised to remove starch and bacteria, making it ready to eat.
Benefits:
Ethically sourced farm to table organic maca direct from Peru
Promotes energy, vitality and combats stress and fatigue
Balances hormones and mental health
Natural remedy to combat stress and fatigue
Balance adrenal and thyroid function
Socially responsible and sustainably produced
$1 per bag is used to fund blankets, heating and school supplies in Peru