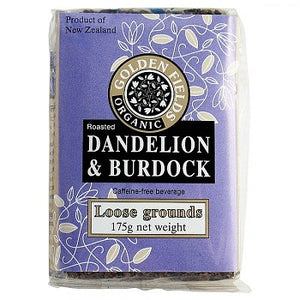 ie-produce
Golden Fields Dandelion & Burdock Coffee 175gm
Golden Fields Dandelion & Burdock Coffee 175gm
is a unique coffee substitute made from roasted dandelion and burdock roots. The medicinal properties of burdock root are similar to those of dandelion root. Burdock is diuretic and diaphoretic, it is one of the best blood purifiers and a remedy for all skin diseases including eczema.
Put together, dandelion and burdock reinforce each other's action, in particular as a liver tonic. Burdock contains its own bitter substance, Lappin and is suitable for a diabetic diet. Dandelion & Burdock makes a light coffee alternative with a distinctive burdock flavour. It is naturally caffeine-free.
The burdock belongs to the thistles group. It gets its name of "Dock" from its large leaves (as large as rhubarb leaves at the base) and the "Bur" from the little hooked prickles which stick like velcro to everything they come in contact with.

In Japan it is cultivated for its roots and, after three months growth, used as a vegetable in stir-fries. It has a sweet and mucilaginous taste. Golden Field's burdock is grown in New Zealand on certified organic farms and is harvested early autumn. It used to be a traditional combination in Britain, but nowadays only a dandelion & burdock artificially flavoured soft drink can still be bought.

Ingredients: All certified organic and grown in New Zealand

The sachets contain very finely ground dandelion root (Taraxacum officinale), and burdock root (Arctium lappa), half and half, both lightly roasted.

The granules are small pieces of root without fines. Half dandelion, and half burdock, both lightly roasted.

Directions:
Sachets:

 

One sachet per cup, use preheated cup, pour boiling water, cover, infuse 5–10 minutes, squeeze sachet with teaspoon and stir.
Granules:

 

One teaspoon loose granules per cup, or 15 grams per litre, infuse 5–10 minutes or simmer one minute.
For a latte (cow or soy milk), a stronger brew may be necessary.
The flavour can be further enhanced by adding, alone or in combination, ginger, cardamom, coriander or cinnamon.
---
More from this collection