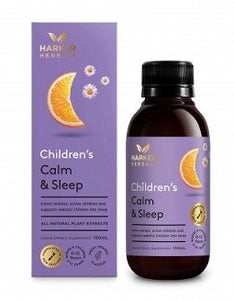 ie-produce
Harker Herbals Children's Calm & Sleep
Harker Herbals Children's Calm & Sleep 150ml
A gentle relaxant for little ones needing to slow down or settle into sleep. Suitable for babies and children to 12 years:

Sleep formula to establish healthy sleep habits and routines
Supports wakeful children to settle into sleep
Encourages relaxed, restful sleep
Can be used for daytime naps
Take before bedtime and during the night to settle back to sleep
Suitable for teething babies
Supports restless, active or worried children
Natural sweet orange flavour
Free from gluten, dairy, alcohol and preservatives



 Always read the label and use as directed. If symptoms persist, see your healthcare professional.

Active ingredients
Each 5ml dose contains:
LEMON BALM herb 528mg

CHAMOMILE flowers 2382mg

ORANGE OIL cold pressed 2.32mg
In a base of chicory root fibre, vegetable glycerine, natural flavours, citric acid and water

This low sugar formulation contains less than 0.06g of sugar per 5ml dose.
Directions: 
Infants - 0-1 years: - 0.5ml (5 drops)
Children 1-2 years: - 1 to 2ml (1/4 metric teaspoon)
Children 2-5 years: - 2 to 3ml (1/2 metric teaspoon)
Children 5 years and over: - 5ml (1 metric teaspoon)

For children under 5 years, take the recommended dose up to 1 hour before bed (including daytime sleeps). May also be taken during the night if awake.

For children 5 years and older, take recommended dose 3 hours before bed and another dose one hour before bed. May also be taken during the night if awake.

Do not exceed 3 doses over a 24hour period. 

To support restless or worried children during daytime, take recommended dose 3 times per day.

Shake well before use.  
---
More from this collection