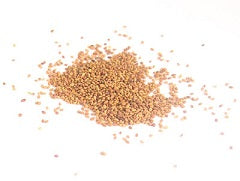 ie-produce
Wright Sprouts Alfalfa Seed 200gm
Alfalfa Seeds for sprouting. Alfalfa seed will grow to 10 times it's size in the sprouting process, so be mindful of the amount of seed required for each batch.
Alfalfa sprouts are great for lowering cholesterol so put plenty in your sandwiches
Alfalfa is a very nutritious herb with many benefits. A natural detoxifying agent, alfalfa has been used for centuries to support good health.
---
More from this collection