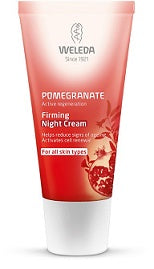 ie-produce
Weleda Pomegranate Firming Night Cream
Weleda Pomegranate Firming Night Cream 30ml 
Night-time regeneration to reduce signs of ageing
A bedtime treat for naturally ageing skin, this rich, firming cream helps skin cells renew through the night, with precious oil from pomegranate seeds. The skin's firmness and elasticity is improved, whilst the appearance of wrinkles and lines are noticeably reduced.
Description
Just as your body and spirit need the refreshment of a good night's rest, so your skin drinks in our lovingly prepared Firming Night Cream. The precious oil of pomegranate seeds is harmonised with borage seed and argan oils, gently absorbing as you sleep, to stimulate cell growth, reduce wrinkles and improve skin bounce and tone. Awake to newly fresh and radiant skin, smoother, softer and as young as you feel.
Benefits
Activates natural regeneration, encouraging skin cell growth. Antioxidant – protects against free radicals, reduces wrinkles and firms skin. 
Pomegranate Seed Oil
Punica Granatum Seed Oil
The yellow to reddish coloured, relatively thick Pomegranate Seed Oil is one of the active agent oils and is rich in the rare punicic acid (an unsaturated fatty acid). This valuable vegetable oil also has antioxidant properties that improves the regeneration of the skin and is therefore considered to be an outstanding skin care product for dry, aging and stressed skin.
Sesame Seed Oil
Sesamum Indicum (Sesame) Seed Oil
Sesame Seed Oil works as a perfect massage oil and is used for the care of wan, dry and mature skin but it is also used as a hair conditioning product. It has a great antioxidative effect, skin caring properties and is an ideal carrier oil for active agents. It comprises of a high content of unsaturated fatty oils, such as oil and linolenic acid, as well as phytosterols and Vitamin E (esp. gamma-tocopherol).
How to use
Apply to face, neck and decolletage every evening after cleansing and toning and after applying Pomegranate Face Firming Face Serum.
---
More from this collection